Pressure Washing Vestavia Hills AL
If you are looking for pressure washing in Vestavia Hills AL then look no further than PrettyWash Pressure Washing & Softwashing. We offer a wide range of exterior cleaning services from traditional power washing to soft washing services to pressure wash your home. We services all the areas surrounding Birmingham, AL, for example Vestavia Hills and Hoover, AL.
We offer pressure washing in Vestavia Hills and will pressure wash your home or business to your satisfaction. We are your go to soft washing service provider in Vestavia Hills, AL. Our customer service is unmatched and you will not find a business more highly recommended. We have over 100+ 5 star reviews on google.
Get on our calendar today and increase your curb appeal with a free estimate. Check out our power washing reviews page too.
Over 175+ Reviews Vestavia Hills
We work hard and can handle any job, no matter how big or small. We pay attention to the smallest details, resulting in excellent results in a timely manner!
Serving Vestavia Hills Alabama
We are a professional pressure washing company based in Birmingham, Alabama. We offer our services to both residential and commercial customers in the Vestavia Hills, Hoover, and Mountain Brook areas.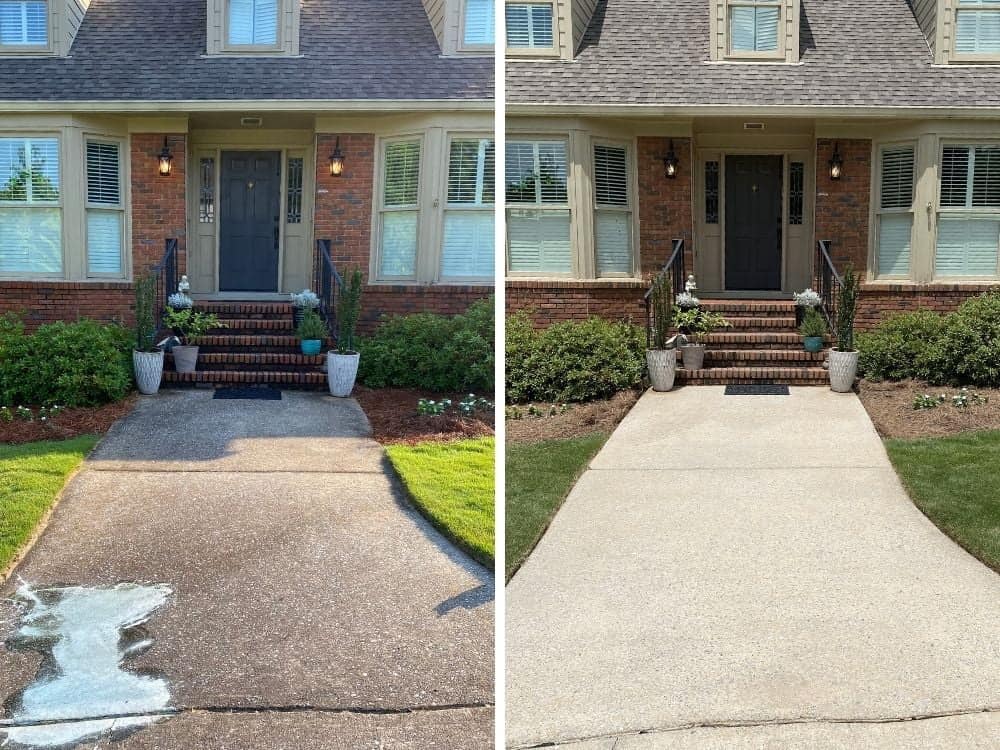 Pressure Washing Near Vestavia Hills
Pressure washing services are a great way to get rid of dirt, grime and debris that builds up on your property. But there are some things you need to keep in mind before hiring a pressure washer. First off, make sure you hire a reputable company. A reputable company will have high-quality equipment and employees who are knowledgeable about pressure washing.
They will also have experience working with different kinds of surfaces. Second, make sure you ask the pressure washing company what kind of pressure they use. You can ask them which type of pressure they recommend for your specific situation.
And third, make sure you inspect the pressure washing equipment before they start working on your property. Make sure it's in good working condition and that it's calibrated correctly.
Professional Pressure Washing Services
Pressure washing services can remove dirt, grime and debris from your property. When hiring a pressure washer, be sure to choose a reputable company with good equipment and staff who know what they're doing.
Ask the pressure washing company what pressure they use, as they will know what works best for various types of surfaces.
And third, make sure you inspect the pressure washing equipment before they start working on your property. Make sure it's in good working condition and that it's calibrated correctly.
Soft Washing by the Pros
Soft washing is a safe and effective way to clean exterior surfaces that are stained with organic materials, mildew, or algae. Although these types of washing may appear similar, but they each use different techniques, equipment, pressure and chemicals.
Soft washing uses a combination of an environmentally friendly cleaning solution and pressure to clean surfaces and kill harmful organisms. Soft washing uses low pressure and is ideal for cleaning delicate surfaces like windows, roof shingles, screens, and wood paneling.
Vestavia Hills is a town in Jefferson County, Alabama, United States. At the 2010 census the population was 9,328. Vestavia Hills is located 15 miles west of Birmingham and is part of the greater metro area. It was incorporated in 1964. The town is named after the park that was created by James "Vest" Hines in the 1880s, to serve as a recreational center for those living in the surrounding neighborhoods.
The park, now known as Hines Park, has been featured on several postcards and has been used as a setting for several movies, most notably Forrest Gump (1994) where it features prominently as the site of Jenny's funeral.
The town has many local shopping centers and is a shoppers paradise. There are also many local restaurants and cafes. Popular ones include Chick-fil-A, The Cheesecake Factory, Panera Bread, Starbucks, Goldfish Crackers and Fatburger.
Pressure Washing Services
Softwashing
House Wash
Roof Cleaning/Wash
Driveway/Concrete Cleaning
Deck/Porch Cleaning
Window Cleaning/Wash
Fence Cleaning
Pressure Washing
Ready to get started?
We look forward to hearing from you!